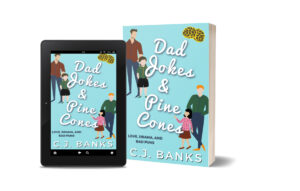 Widowed musician and single-father Wishes thought he'd never get his life Bach together again. Enter Ronan stage left.
Balancing his career, his mental health, and getting his daughter to school on time, Wishes longs for another set of hands to duet life with. When Ronan proposes a childcare trade off, Wishes leaps at the opportunity. After all, single dads need to support each other, right?
Spending time with Ronan and his son gives Wishes' life harmony, and thrusts him into panic mode. The timing between his grief and desire for Ronan is offbeat. He doesn't know if he's ready for a new love song, or if Ronan can Handel his secrets. Little does Wishes know, Ronan has a cacophony of secrets of his own…
One widowed single-father + One divorced single-father = dad jokes, adorableness, steamy times, and a boatload of baggage.
Content warnings:
Canadian spelling. We love to mix and match US and UK spelling with a smattering of French words.
This book, while funny and endearing, discusses heavy topics such as mental health (on-page panic attacks), death, addictions (historical), abuse (historical with flashbacks), suicide (flashbacks), and homophobia (historical and on page).
There's swearing. A good smattering of F-bombs.